This range of rocks extends about eight or ten English miles,
and begins and ends, so abruptly, that it looks as if it, were a crown upon the head of the mountain on which it stands,
and which is otherwise not higher than those that run from both ends of the Heuscheuer...
This is how John Quincy Adams wrote about Szczeliniec Wielki, the highest peak of the Stolowe Mountains, in his letters from the tour of Silesia. Since those times the wanderers have been fascinated with the mystery hidden among the rocks of these mountains...
Welcome to the Stolowe Mountains National Park website where you can learn more
about the mountains and lift the veil of their secrecy...
  Location
The Stolowe Mountains National Park was created on the 16th of September, 1993. It is situated in the middle Sudeten, in Klodzko region on the Polish-Czech border. The Stolowe Mountains are the Polish part of great sandstone layer situated between the Karkonosze, the Bystrzyckie and the Orlickie Mountains. The Czech part of it bears the name of Broumovska Vrchovina and it's also a protected area (CHKO Broumovsko).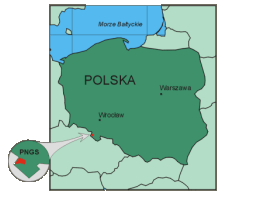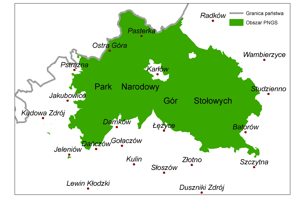 The Stolowe Mountains National Park covers the area of 63 square kilometres of their upper part with the culminations of Szczeliniec Wielki (919 m above sea level) and Skalniak (915 m). In the neigbourhood of the Park there are several popular health resorts: Polanica Zdroj, Duszniki Zdroj, Kudowa Zdroj.